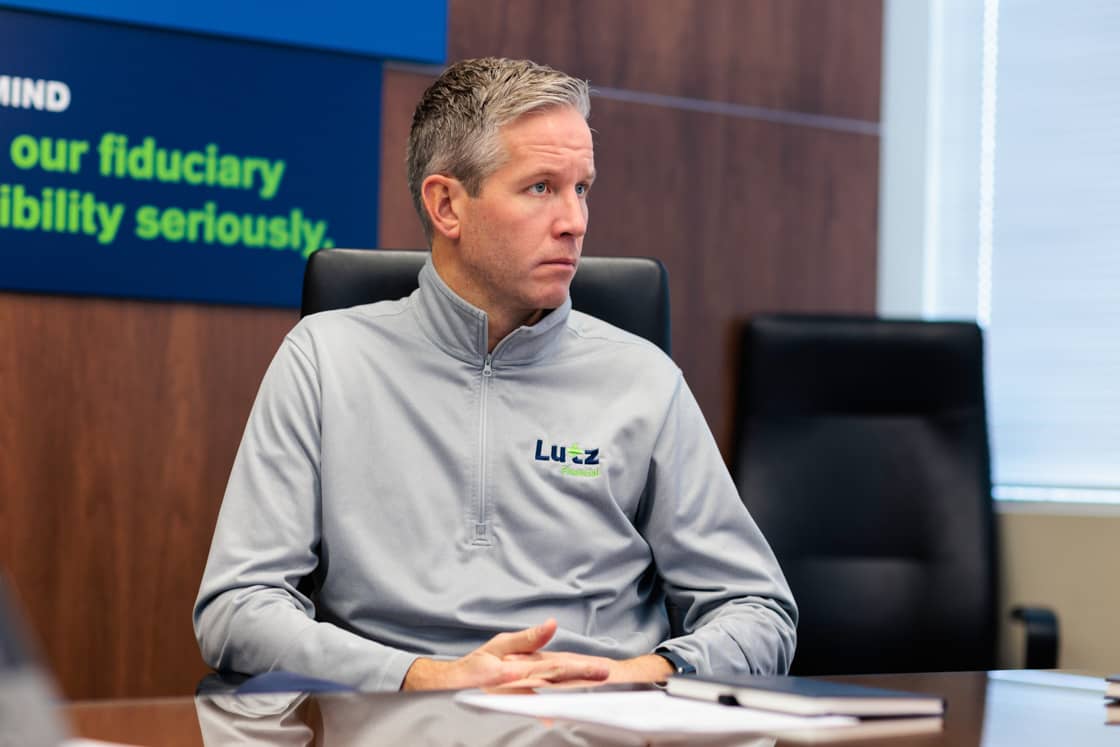 A Modern Retirement Plan for Your Business
The Lutz Financial Pooled Employer Plan (PEP) allows businesses of all sizes, industries, and locations to come together and adopt the benefits of one employer retirement plan. The PEP offers the flexibility to implement plan features that fit your organization while limiting the risk, cost, and administrative burden associated with an individual custom plan. Smaller plans get access to diversified investments and prominent providers. All plans can offload time-consuming administrative tasks.
Administered by industry professionals and adopted by various companies in the Midwest, Lutz Financial's PEP provides a retirement plan solution to save you time, reduce expenses, and assist employees in reaching their financial goals.
Is a PEP right for my business?
Employer Benefits

+ Delegate Fiduciary Liability
+ Free-Up Resources
+ Cost-Efficiencies for Employer & Employees
+ Digital Access to Plan Functions & Information
+ Easy Account Set-Up
+ Payroll Integration
+ Investment Management
+ Automated Participant Registration

Employee Benefits

+ Full-Function Participant Website & Call Center (English & Spanish)
+ Educational Materials
+ Financial Wellness Resources
+ Mobile App
+ Streamlined Investment Options
+ Lutz Financial Risk-Based Model Portfolios
+ Unbiased Support from CFP(r) Professionals

Fiduciary Risk Mitigation

Fiduciary investment duties are outsourced to Lutz Financial, which serves as an ERISA 3(38) investment fiduciary.

Do any of the below statements resonate with you?

+ I have concerns over potential fiduciary risk.

+ I wish to delegate investment decisions to an investment manager.

Time Savings

Adopting employers are relieved of most plan administrative duties, allowing more time to focus on their business.

Do any of the below statements resonate with you?

+ I don't have the time to dedicate to running a plan.

+ I currently sponsor a plan but am looking to outsource time-consuming activities.

Cost-Efficient

Costs are spread across a larger participant and asset base, reducing the expenses for each employer adopting the plan.

Do any of the below statements resonate with you?

+ I've been reluctant to sponsor a retirement plan due to cost.

+ I need a plan for my employees but would like to reduce audit costs and plan responsibilities.
How does the employer's role differ by plan type?
| | Pooled Employer Plan | Single-Employer Plan |
| --- | --- | --- |
| Selects Pooled Plan Provider | Y | N |
| Named Fiduciary [402(a)] | N | Y |
| Operational Fiduciary [3(16)] | N | Y |
| Fund Selection and Monitoring | N | Y |
| Creates and Adopts Investment Policy Statement | N | Y |
| Selects Investment Manager | Y | Y |
| Selects Plan Trustee | Y | Y |
| Consults on Plan Design | N | N |
| Plan Design Edits | Y | Y |
| Reviews/Approves/Signs Off on Plan Documents | Y | Y |
| Reviews/Signs/Files 5500 | N | Y |
| Reviews/Approves/Signs Off on Compliance Testing/Distributions/QDROs | N | Y |
| Monitors Plan Eligibility | N | Y |
| Beneficiary Tracking | N | Y |
| Prepares/Approves Required Notices/Reports | N | Y |
| Compiles/Completes Year-End Census Data | Y | Y |
| Submits Timely and Accurate Payroll/Plan Contributions | Y | Y |
| Selects/Monitors Service Providers | Y | Y |
| Selects/Works with Plan Auditors | N | Y |
| Manages Participant Communications/Education | N | Y |
| Conducts Investment Meetings | N | Y |
| Monitors/Benchmarks the PPP | Y | Y |
Pooled Employer Plan

Selects Pooled Plan Provider
Named Fiduciary [402(a)]
Operational Fiduciary [3(16)]
Fund Selection and Monitoring
Creates and Adopts Investment Policy Statement
Selects Investment Manager
Selects Plan Trustee
Consults on Plan Design
Plan Design Edits
Reviews/Approves/Signs Off on Plan Documents
Reviews/Signs/Files 5500
Reviews/Approves/Signs Off on Compliance Testing/Distributions/QDROs
Monitors Plan Eligibility
Beneficiary Tracking
Prepares/Approves Required Notices/Reports
Compiles/Completes Year-End Census Data
Submits Timely and Accurate Payroll/Plan Contributions
Selects/Monitors Service Providers
Selects/Works with Plan Auditors
Manages Participant Communications/Education
Conducts Investment Meetings
Monitors/Benchmarks the PPP

Single-Employer Plan

Selects Pooled Plan Provider
Named Fiduciary [402(a)]
Operational Fiduciary [3(16)]
Fund Selection and Monitoring
Creates and Adopts Investment Policy Statement
Selects Investment Manager
Selects Plan Trustee
Consults on Plan Design
Plan Design Edits
Reviews/Approves/Signs Off on Plan Documents
Reviews/Signs/Files 5500
Reviews/Approves/Signs Off on Compliance Testing/Distributions/QDROs
Monitors Plan Eligibility
Beneficiary Tracking
Prepares/Approves Required Notices/Reports
Compiles/Completes Year-End Census Data
Submits Timely and Accurate Payroll/Plan Contributions
Selects/Monitors Service Providers
Selects/Works with Plan Auditors
Manages Participant Communications/Education
Conducts Investment Meetings
Monitors/Benchmarks the PPP
Lutz Financial
News & Insights