Don't just think, "that will never happen to me." That's how one of my new clients recently responded when I asked the amount of her personal umbrella coverage. She sighed and then proceeded to tell me how a few years back, her college-aged daughter had returned home during a school break and got into a car accident that injured the driver of the other car. While the wreck was her daughter's fault, she hadn't been drinking or speeding. It was just an accident, something that could happen to anyone.
Over the next 18 months, the injured party required over ten operations, which produced hospital bills alone of over $1 million. My client's jaw dropped when the plaintiff's attorney brought a lawsuit against her (the owner of the car) for over $6 million! After months of back and forth between each side's attorneys, they finally reached a settlement for a little under $2.5 million (with about 1/3 going for medical bills, 1/3 going to the injured party and 1/3 going to the plaintiff's attorney). The whole ordeal took almost two years to finalize from the time of the accident.
Thankfully, my client had met with an insurance advisor a few years before this event, who had strongly encouraged her to increase her existing personal umbrella policy from $1 million to $5 million, which she did. So, my client didn't have to pay one cent of her own money towards legal defense costs or the final settlement amount. It was all handled by her insurance carrier. Her only expense was to cover the small deductible on her auto policy.
That being said, it was still an extremely stressful time period for my client and her family. But, can you imagine how much more stressful this would have been for my client had she not bumped up her insurance coverage?
What is a Personal Umbrella Policy?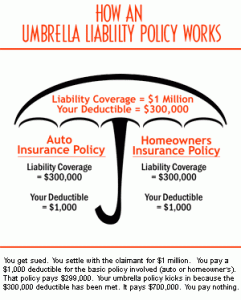 A personal umbrella policy (PUP) is an extension to the liability protection offered by your existing auto and homeowner's policies (or condo, renter's, etc.). The diagram to the left illustrates how your PUP comes into play. Keep in mind the deductible on your PUP would be satisfied by your underlying home/auto coverage.
In addition to increasing the limits of those other policies, your PUP may also add additional liability coverage or do away with exclusions in the underlying policies. However, there can be substantial variation in policies, so be sure to read the fine print. Don't just assume that a particular situation is covered. If it's important to you, confirm with your insurance advisor. Also, keep in mind this is separate from any malpractice insurance you may have, as your PUP won't cover damages you may cause in your professional work.
Before I go any further, I feel compelled to point out that our firm doesn't currently sell insurance of any kind. So, my only motive in writing this is to make you more informed about your potential umbrella needs, not to sell you a policy. Also, the following advice is informed in part by recent discussions I've had with some of the top personal injury lawyers, estate lawyers and insurance advisors who serve clients in Omaha, NE.
How Personal Injury Damages are Calculated
In Nebraska, there are four elements that make up the potential damages in a personal injury lawsuit: (i) medical bills; (ii) economic damages (e.g., lost wages); (iii) pain and suffering; and (iv) permanency. Other states have similar elements, although there is some variation. For example, some states also allow for punitive damages (although these wouldn't be common in a typical accident scenario).
Compared to other states (e.g., CA, FL, NY, OH), Nebraska isn't known for producing large awards for personal injury cases. However, awards or settlements in the $3-5 million range do happen in Nebraska, and there's nothing preventing even higher awards if the right fact pattern is present.
One of the advisors I spoke to, for purposes of this article, indicated there had been a personal injury settlement in Nebraska of nearly $10 million. Keep in mind that Nebraska law will only apply if the action which caused the injury occurred in Nebraska. If the claim arises in another state, that state's laws will apply. If that injury happens to be in a more litigation-friendly state, then you could potentially be subject to an even larger lawsuit.
Examples of Potential Claims
I find that most people have a hard time giving this topic the attention it deserves unless you can paint a picture for them of how these types of scenarios could play out. So, I asked two local attorneys to do just that (one a personal injury plaintiff's attorney and the other an insurance defense attorney). Here are two scenarios that have the potential to create large claims against you:
You cause injury to a high-income individual. Think of a Neurosurgeon in his early 40's making well over $1M a year. He'd have to try to mitigate his damages, but if afterward, he can only earn $100k a year. He'd have a very large potential claim for economic damages (lost wages) alone.
You cause injury to someone who now requires 24-hour care for the rest of their life, particularly if the inured person is younger with a long-life expectancy. Regardless of their income, this could create a large potential claim for medical bills, pain and suffering, and permanency.
In addition to a car accident, here are a few other scenarios that could lead to an injury where you could be deemed liable:
Boating/jet ski/wave-runner accident
ATV accident
Injury at your home pool, hot tub or lake house
Deck collapses
Trampoline accident
You make an inflammatory comment on social media
Your dog bites someone
A contractor is injured while working at your home
You have a party at your house and a guest drives home under the influence of alcohol and injures someone, or that happens when your teenager has a party at your house when you're out of town
The list goes on.
How Much does a PUP Cost?
The good news is that a PUP is typically one of the cheapest forms of insurance. While these types of claims do happen, they are still extremely rare, and the coverage is priced accordingly. That being said, pricing can vary based in part on the following:
Your personal risk profile. If you have youthful drivers, multiple properties, a home pool, boats, ATVs, etc. then your premium will be higher.
Your insurance score. This is a combination of your exposures, loss history and credit rating.
Where you live. Carriers must file rates in each state they do business, and some rates are higher than others due to the legal climate in that state.
Just to give you a general sense of what potential costs can look like (at least in Nebraska), here is a sample of recent PUP pricing I've seen:
$1 million: $200-$400 per year
$2 million: $350-$500 per year
$3 million: $450-$650 per year
$5 million: $600-$750 per year
$10 million: $1,500-$1,900 per year
Bottom line: bumping up your coverage isn't going to break the bank. Also, it's usually best to bundle your PUP with your home and auto coverage to receive the best pricing.
Don't Forget Uninsured/Underinsured Motorist Coverage
If you were to include extra umbrella coverage for uninsured/underinsured motorists (UM/UIM), it's likely your pricing would be higher (e.g., an additional $200-$400) than the costs quoted above. This covers you in the event you are injured by someone else in an auto accident, and their insurance and available assets are inadequate to cover your damages.
All the experts I spoke with agreed that this was important coverage to add. Be sure to ask about this coverage as not all carriers offer it, and it's capped at certain amounts by others. Also, if you're a high-income earner and your family relies on you for support, it's essential to have appropriate amounts of life and long-term disability insurance.
A related (though rare) type of coverage is for Third Party Liability. It's like UM/UIM, but responds to events other than auto accidents where you are injured, and the other party can't satisfy your claim.
How Much Coverage Do I Need?
A common answer you will hear is to insure up to the amount of your assets. However, your exposure to liability is not limited to your net worth. For example, if you have $1 million in assets and only get $1 million in insurance coverage, that doesn't stop someone from suing you for $2 million (or more), especially if the plaintiff's attorney thinks they have a very strong case. Keep in mind it's not just your current assets that are at risk but also your future earnings (or future inheritance) because a large award may stay with you until it is satisfied.
Here are factors, in addition to your net worth, that place you at a higher risk of liability warranting the purchase of a larger PUP:
Youthful drivers
Home pool or house on a lake
Boat or ATV
Second home/other property (particularly in a more litigious state)
Serving on multiple non-profit boards
Higher profile in the community (doctor, lawyer, athlete, entertainer, politician, etc.)
Based on the discussions I've had with other experts in this area, I've developed a few suggestions. At a minimum, if your net worth is under $5 million, make sure you insure at least the amount of your assets plus an extra $1 million buffer above that amount. If you have a higher net worth or one or more of the factors above that place you at a higher risk, bump up your amount accordingly.
We have lots of clients with at least $5 million of coverage, and some who have at least $10 million. Some of the insurance advisors I spoke with have clients with up to $50 million of coverage (though this is very rare). With respect to UM/UIM umbrella coverage, the insurance professionals I spoke to agreed that $1 million was a fair amount in this area.
Work with Your Team of Advisors and Make an Informed Decision
If you are someone with a higher net worth, I encourage you to work with an independent insurance professional who can help you evaluate your needs, shop around for the best options, and give you access to the top insurance carriers. Certain carriers specialize in providing coverage at higher amounts with enhanced policy options (e.g., Chubb and PURE). I find that most new clients I meet with are arguably under-insured when it comes to their PUP. This may be due, at least in some situations, to their working with insurance agents who primarily serve a lower net worth clientele.
Case in point: I've recently met with two different doctors, both with a net worth near $10 million, each with a house on a lake, boats, and multiple teen drivers. Each of these doctors had a PUP of only $1 million. I doubt that would have been the case had they been working with an insurance advisor who regularly works with higher net worth clients.
While you're at it, if you have a higher net worth, I also suggest you discuss all of this with your estate attorney to get their input. They might have additional ideas on asset titling or other advice to better protect your assets. Your financial planner should be able to provide input in this area as well.
Why Take the Risk?
The types of claims described in this article are rare, but they do happen. The good news is that the coverage to protect yourself from these low probability events is relatively inexpensive. When the cost to materially increase your coverage in many cases is only a few hundred dollars a year, why take the risk?
Important Disclosure Information
Please remember that past performance may not be indicative of future results. Different types of investments involve varying degrees of risk, and there can be no assurance that the future performance of any specific investment, investment strategy, or product (including the investments and/or investment strategies recommended or undertaken by Lutz Financial), or any non-investment related content, made reference to directly or indirectly in this blog will be profitable, equal any corresponding indicated historical performance level(s), be suitable for your portfolio or individual situation, or prove successful. Due to various factors, including changing market conditions and/or applicable laws, the content may no longer be reflective of current opinions or positions. Moreover, you should not assume that any discussion or information contained in this blog serves as the receipt of, or as a substitute for, personalized investment advice from Lutz Financial. To the extent that a reader has any questions regarding the applicability of any specific issue discussed above to his/her individual situation, he/she is encouraged to consult with the professional advisor of his/her choosing. Lutz Financial is neither a law firm nor a certified public accounting firm and no portion of the blog content should be construed as legal or accounting advice. A copy of Lutz Financial's current written disclosure statement discussing our advisory services and fees is available upon request.