Running out of money is often cited as the biggest fear of retirees. Most investment and financial advice has traditionally been focused on the accumulation phase (growing assets before retirement). But, with the elimination of traditional pension plans and increased life expectancies, retirees are now finding that the distribution phase (spending down assets in retirement) is far more complex and requires a skill-set that they may not possess. This blog will provide a couple brief pointers on how to review your financial situation and investment allocation so that you don't spend your retirement worrying about outliving your assets.
How much can I spend each year in retirement?
The best way to answer this is to perform a comprehensive retirement cash flow analysis. By modeling out detailed projections, you can analyze how your income and expenses will affect your retirement nest egg over time. This will include a review of your balance sheet, sources of annual income, tax features and how much you plan on spending each year. It is important to work with an experienced advisor who uses a high-quality planning software that can model out different scenarios so that you can see how modifying various assumptions can impact your financial picture.
Keep the following points in mind to ensure an accurate review of your financial situation:
Understand the timing and length of your retirement (estimate of retirement date and how long you will live) – longevity is one of the biggest stresses on retirement funds
Prepare an estimated budget of your annual expenses (don't just wing this, if this is way off it can materially impact the analysis)
Quantify your sources of income (Social Security, rental income, farm income, pension, part-time employment, required minimum distribution (RMD) income, etc.)
Get a good estimate of what your healthcare and potential long-term care expenses will be[i]
Have a conservative assumption for taxes and inflation
Set a realistic growth rate for your investments based on your overall asset allocation (more on this to come below)
The cash flow analysis will help you find out if a level of annual spend is sustainable based on your balance sheet and the underlying assumptions (the key is to be realistic but conservative). It's important to update this analysis periodically as you progress through retirement to account for any changes in your situation and to confirm your plan remains on track.
How do I determine my investment allocation in retirement?
As mentioned above, it's important to use a reasonable investment growth rate when modeling out your retirement cash flow. What's "reasonable" depends in part on what your investment allocation will be in retirement (i.e., your ratio of stocks vs. bonds/cash). But, how do you go about determining what that allocation should be? While there are lots of personal factors to consider and several different methodologies to use to answer that question, the approach we like to use is what I will call the "3 bucket model."
Three Bucket Allocation Model
In the bucket approach, you start out by estimating what your annual retirement "shortfall" will be (meaning by how much do your annual retirement expenses exceed your annual retirement net income). You then try to fill Bucket 1 with one year of this shortfall in a money market account. Next, you try to fill Bucket 2 with 7-10 years (or more) of this shortfall amount in a diversified fixed income (bond) portfolio. Lastly, fill Bucket 3 with the remainder of the portfolio in a diversified stock/bond mix. How aggressively Bucket 3 is allocated depends on how large the overall portfolio is and what the primary goal of the investor is (i.e., either protecting the corpus to provide a bigger spending cushion for the investor or growing the pot in an attempt to leave a larger amount for heirs or charity).
What this 3 bucket approach accomplishes is theoretically not having any funds you plan on needing in the next 7-10 years in the stock market. It also helps to avoid having to sell stocks at an inopportune time. If the stock market pulls back (as it inevitably will at various points during your retirement), you can pull any funds needed for living expenses from Bucket 1 or Bucket 2 and allow your stocks in Bucket 3 time to recover.
If you are in retirement and can't fill a 7-10 year bucket with conservative bonds, you may either need to be more aggressive with your investments then is ideal or you may need to reduce your annual spend. An illustrative example of this 3 bucket approach is set forth below.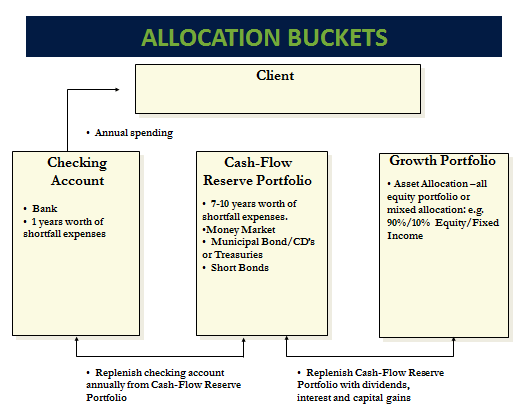 As you approach and enter retirement, managing your finances becomes much more complex. Determining how much you can safely spend each year and how to allocate your investments are just a couple of the many critical financial decisions you will face in retirement. Make sure you work with your financial advisor to put together a plan that meets your needs. If you don't feel that your current advisor is providing adequate guidance in these areas, find one that will. Feel free to contact us for more information on this topic or to schedule a meeting to discuss your situation further.
Important Disclosure Information
Please remember that past performance may not be indicative of future results. Different types of investments involve varying degrees of risk, and there can be no assurance that the future performance of any specific investment, investment strategy, or product (including the investments and/or investment strategies recommended or undertaken by Lutz Financial), or any non-investment related content, made reference to directly or indirectly in this blog will be profitable, equal any corresponding indicated historical performance level(s), be suitable for your portfolio or individual situation, or prove successful. Due to various factors, including changing market conditions and/or applicable laws, the content may no longer be reflective of current opinions or positions. Moreover, you should not assume that any discussion or information contained in this blog serves as the receipt of, or as a substitute for, personalized investment advice from Lutz Financial. To the extent that a reader has any questions regarding the applicability of any specific issue discussed above to his/her individual situation, he/she is encouraged to consult with the professional advisor of his/her choosing. Lutz Financial is neither a law firm nor a certified public accounting firm and no portion of the blog content should be construed as legal or accounting advice. A copy of the Lutz Financial's current written disclosure statement discussing our advisory services and fees is available upon request.